there is a brown brick block in the front, such a typical scenery for the whole of England. In the background there is a concrete chimney, a distinguishing mark of Tinsley, a district in the city of Sheffield. In one of these houses, an important day is just starting to take shape. It is the first day in a new kindergarten for 4-year-old Galina. Her parents dressed her in her most beautiful coat and the whole day is going to be filmed by Slovak documentarian Hannah Skrinar.
At first, Galina is nervous and hides behind every corner. However, after few hours she plucks up her courage and during the time a song about a small rabbit is being sung, she is already one of the liveliest children in the class. Despite the fact that even much more experienced English-speakers would have trouble understanding the accent of her teacher. Galina is from the Roma community. At home she speaks almost only Romani and barely understands any Slovak or English. With such language skills, she would not last in the Slovak education system for long. Sooner or later, probably during the first four years of her primary education, she would be sent to a special school. However, here in Britain, in a group full of Pakistani, Bangladeshi and Somalian children her language barrier is of almost no concern to anyone. She does not speak English? We will teach her.
"The school immediately told his parents it would be best if Ondrej's brother switched to a special school."
Karol Bobek is in the tenth grade. Next year he will sit an important test, which will influence his future career. In Slovakia, he would not be able to sit such test at all. According to his teachers back in Slovakia, Karol is "stupid". Yet after he moved to Leicester with his parents, the English school found out that Karol is not stupid. He only has a visual impairment that restrains him from reading small letters and seeing the blackboard. Although the English school is helping him in every way possible, not everything can be set right. Due to a lack of care in Slovakia, Karol is going to lose his sight completely in the next couple of years.
However, you will not see any sadness coming from Karol. On the contrary, he almost constantly smiles and speaks about his future as a businessman – he likes maths. He admits it was tough at the beginning. He did not know a single English word and was sometimes reduced to tears. Later he discovered his father's dictionary and decided to learn five new English words every day. Now he is able to engage in any conversation within the class.
A huge amount of support for Karol comes from the school. If there is a book with numbers too small for Karol to read, the teachers make them larger or send Karol and his teaching assistant to a library, where "there's a light under which he puts the book and sees it better". Today, Karol made a PowerPoint presentation about Spanish footballer Sergio Ramos with such help. Because, one should not forget, Leicester is still a city full of football mania and only a couple of days are left until the World Cup begins. And, as another Slovak Roma boy in the class wittily remarks, Ramos is also a "gypsy" so it's obvious Karol chose him.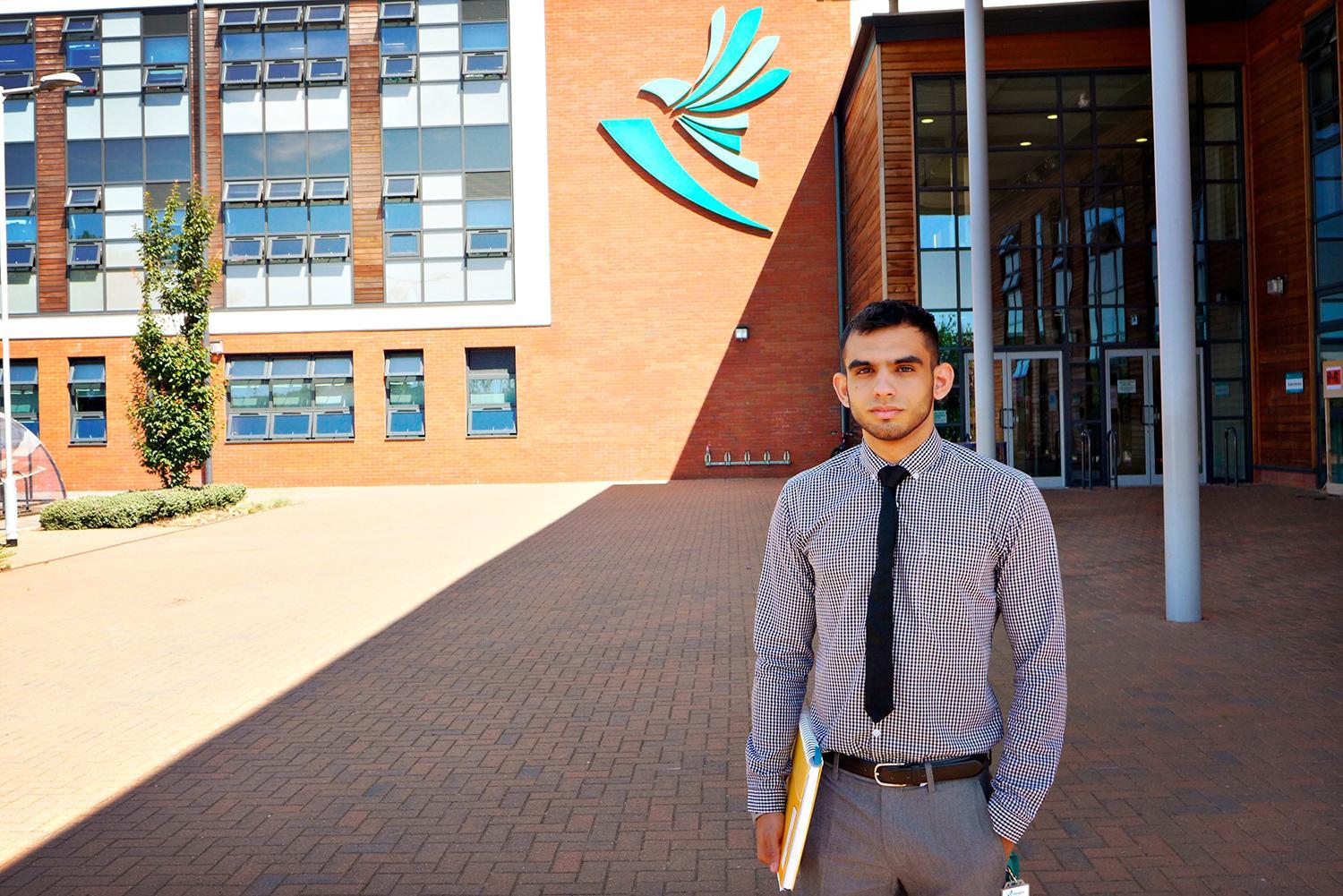 Ondrej Oláh works as a teaching assistant at Babington Academy in Leicester.
The other Roma child in the class is Ondrej Oláh. In the short collection of stories about Slovak Roma people in English, his story is probably the most emblematic. Ondrej came to England with his parents and siblings when he was eleven. In Slovakia, he attended primary school near Rimavská Sobota. At this school, Ondrej's brother failed his class. The school immediately told his parents it would be best if Ondrej's brother switched to a special school. And not only that – his brother Ondrej should go with him. "I wasn't the best student but at least I knew what I was doing in the school, I spoke Slovak and didn't have any trouble with learning. It made no sense," said Ondrej, recalling a situation from eight years ago. At that point Ondrej's father made a final call: It can't go on like this. We are moving to England.
Like the majority of others, Ondrej barely spoke any English. It became clear during the entrance exams – he did badly in English but was good in maths. That is why only a couple of months later the school moved him to a group of the best mathematicians where he was also practicing his English. After several years Ondrej became one of the best students and passed the feared GCSE test with nine A grades, one B and one C from French. His school advised him to go to a college and then to a university.
British teachers are surprised how many Slovak students with similar stories to Ondrej's are arriving at their doors. Organization Equality did a survey among 61 Slovak and Czech students in British schools and came up with shameful results – 85 percent of the children attended special school in their home country. Only four percent of these children were placed in a special school in Britain.
Today, Ondrej is nineteen and guides visitors from Slovakia around his school in Leicester. He translates from English to Slovak, sometimes also to Romani. If needed, he can also translate to Hungarian and French. Furthermore, he works as a teaching assistant and in cooperation with The Council of Europe he is starting a major project focused on inclusive education in Slovakia, Hungary and Czech Republic. And after the summer comes another huge moment for Ondrej – his first year at university. Ondrej is going to study psychology although he still dreams of being a pilot. But that can wait. When he visited Slovakia a couple of weeks ago and walked around his primary school where he was told he had to go to a special school, he realized how far he has already come.